How to Protect Your Posture So Your Desk Job Doesn't Become a Literal Pain in the Neck
How to Protect Your Posture So Your Desk Job Doesn't Become a Literal Pain in the Neck
Written By Commons Chiropractic Center on June 8, 2021
---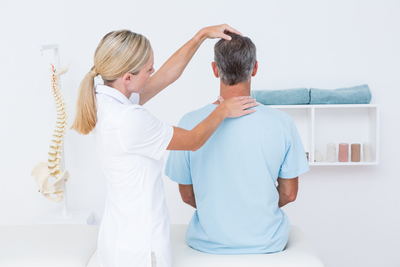 The human body is designed to be on its feet, ready to run from a sabertooth at a moment's notice; not at a desk job, ready to run to a coffee machine. These long work weeks in front of a computer create tension in your back and neck, which is made worse by poor posture.
At Commons Chiropractic Center in Denville, Dr. Irhin wants to take a moment to show you how 1) correcting the ergonomics of your workspace can reduce neck pain, and 2) how chiropractic care can alleviate neck pain both now and in the future.
How To Prevent Neck Pain While Sitting at Your Computer Desk
Tension causes pressure buildup, poor blood flow, and less oxygen getting to the brain. This volatile mixture can manifest into migraines as well.
Poor, headache-inducing posture can lead to neck injuries. Consistently poor posture stresses your spine, nerves, muscles and joints to the point where your body gets stuck in that hunched state. This puts you out of physical balance and can trigger a cascade effect of health issues.
One of the best things you can do is adjust your desk setup, which can protect you from becoming one of the 34% of all workplace injuries. Ergonomic injuries lead the pack in workplace injuries. Employing an ergonomic desk helps promote a healthy posture, which reduces the risk of headaches. You want a straight back and your head up while working.
Decades of Chiropractic Experience Blended With the Latest Techniques
Headache medication may help, but it won't stop the neck pain or tension headache from coming back. You need the medical and anatomical expertise of a chiropractor.
You need to take steps to correct your posture and balance out your muscle build to support healthy posture, or else you're going to hunch right back over. The right chiropractic care can help restore good posture, providing relief from headaches, neck and back pain.
Dr. Irhin has stayed on top of the latest chiropractic methods for over 20 years, regularly seeking continuing education to keep his skills sharp. If you're looking for a chiropractor in Denville and surrounding areas, we welcome you to Commons Chiropractic Center, Michael A. Irhin, D.C. All insurance Plans Accepted. If you are uninsured, we offer very fair and economical fees.
Have questions or need to schedule an appointment? Call us at (973) 366-3335 or go online and fill out our contact form.

Posted In: Chiropractic Neck Pain Workplace Ergonomics